If you're looking for a professional and friendly dental practice in Abbeville, Louisiana, then you've come to the right place. Here at Dr. Lance Savoie Family Dental, we know how important it is to you that you and your loved ones have healthy oral hygiene, and that's why we do everything we can to ensure that a healthy mouth is just what they have. We understand that everyone is different. What works for one of your children might not be appropriate for another of your children. Happily, we're experienced and professional, and can adapt to each of our patients' needs. 
If you're in need of restorative or cosmetic dental care, then you'll be happy to know that we're trained in the latest and most advanced techniques that'll give you and your loved ones a winning smile. Yet while it's our dental talents that we use, that's not the only reason why people choose us for their family dental care. We take great pride in the high-quality care that we provide. You'll notice it as soon as you walk through the front door. Our practice is welcoming, and designed to put you and your family at ease.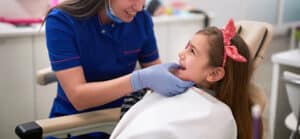 We're also able to offer a wide range of treatments and services. It could be that someone in your family needs a dental cleaning, or it could be more serious things such as root canal therapy or porcelain veneers. If you've got a problem then it's best to just get in touch and we can see what we can do. 
We also understand that some people can feel a little anxious about visiting the dentist, especially children. We have more than 15 years of experience in the dental healthcare field, so you can rest assured that we have the tools and temperament required to make it a pleasurable experience for everyone in your clan, from beginning to end. Ultimately, all forms of healthcare rely on trust, including dental care. When you work with us, you'll have faith that you're in good hands. Indeed, you'll likely find that you and your family are coming to us for every type of dental care for many years to come. 
So whether you're new in town or you just want to visit a new dentist, be sure to get in touch with us here at Dr. Lance Savoie Family Dental in Abbeville, LA. We have the knowledge and experience you need to really feel that you and your family are in great hands when you're coming to an appointment. There are multiple ways for you to get in touch and schedule an appointment. The fastest way is to give us a call on (337) 600-1976 or use the 'request an appointment' form, which you'll find on our contact page. You can also visit us in person, if you prefer, by stopping by 105 Rue Centre, Abbeville, LA 70510. 
One thing's for sure: you'll know that you've made the right decision when you put us in charge of your family's dental health in Abbeville, LA.