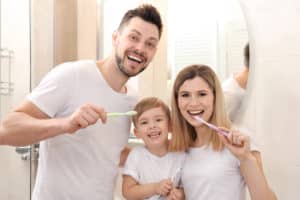 Obtaining a reliable and trustworthy family dentist is an incredibly important factor in your lifestyle. Your children's dental health is crucial for the future of both their teeth and their physical health. Keeping a good dental routine is key in maintaining a healthy lifestyle and can be an excellent preventive measure against heart disease and circulatory issues in the future. 
Our surgery in Abbeville provides exceptional family dentistry and is dedicated to the care and treatment of all its patients. The Dr Lance Savoie Family Dental is situated in Abbeville, Louisanna and is a respected practice, with a team that is committed to providing important care. Communication is a vital factor within the practice, ensuring that patients feel comfortable and trusting, this will create a pleasant environment for all. Providing general and cosmetic dental practice for the area of Abbeville, he uses an array of advanced technologies to combat some of the most difficult dental issues.
Services For Families  
Maintain a healthy check up routine with your dentist from a young age, to manage any issues with growth, or plaque build up, to stop further damage. This is important for young children to continue regular checkups to ensure their teeth are growing naturally and healthily. 
For cosmetic procedures, you can greatly improve your smile with some of our modern solutions, such as Invisalign to straighten any crooked or uneven teeth to enhance your smile and bite. We offer dental implants, which can be used as an alternative to dentures, to ensure that you do not have to live with tooth loss and any of the complications that may arise due to this. Dr Lance Savoie happily welcomes new patients and has been practicing dentistry in Abbeville for over fifteen years. The importance of a trustworthy local dentist is priceless.  
We also appreciate that emergencies happen, especially with younger children and we are available for twenty four hour emergency care; which is something that we are very proud to offer. Further services offered are as follows:
Dental cleaning – keeping teeth clean is vital, for younger children as well as adults, it can help keep teeth free from tartar build up, which is incredibly important to growing teeth. 

Dental extractions – tooth removal is available, whether this is caused by injury or disease. 

Oral surgery – this may include wisdom teeth removal, jaw surgery and dental implants, that can provide a good solution to tooth loss or periodontal disease. We appreciate that wisdom teeth can be incredibly painful and can affect everyday lives; with our dedicated team, you can feel at ease with any form of surgery you may need.

Porcelain veneers and crowns – enhance your smile and look with any of our cosmetic procedures, to ensure you look and feel great.
We are always on hand to answer any questions, and believe that family dentistry is important for dispelling any worries that children may have about attending the dentist. Learning the rudiments of good oral health can be beneficial for an entire lifetime and we are certainly here to help.