As a certified family dental practice, Dr. Lance Savoie Family Dental provides specific services and treatments that can benefit everyone in your family, regardless of their age. We believe that it is very important to educate and help our patients take preventative measures to protect their teeth. Other than treatments, we also offer dental appliances, such as athletic mouthguards, for any patient to wear during physical activity to protect their teeth from harm.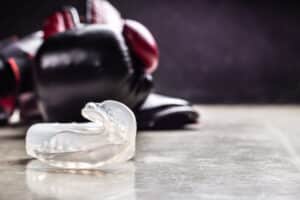 Mouthguard 
There is a variety of mouthguards that can be used for different activities. For example, athletic mouthguards are to be worn during physical contact sports or activities. Because contact sports are especially popular among younger kids, we like to help the parents know how mouthguards work and what their benefits are. 
Appliance 
The mouthguard is made up of a strong, thick, but comfortable dental plastic. Once you decide to have a mouthguard made, we will take impressions of your teeth and make a 3D mold that will allow us to personalize the guard. 
The dental plastic will be heated and formed over the mold, and then cooled. This will make the guard fit comfortably and snug around your teeth and provide a safe cushion during physical activities. 
The Benefits 
In physical sports, there is a high risk of experiencing a dental emergency such as a broken tooth or even getting a tooth knocked out. In these cases, fixing the tooth can be an expensive, tedious process. We encourage all athletes to wear a mouthguard to prevent possible accidents in the future. 
Not only does the mouthguard protect your teeth from experiencing an injury, but it will also protect you from biting and seriously damaging your tongue. Although most tongue injuries eventually heal themselves, they are very painful and can take a long time to fully heal.
Ask Our Professionals 
At Dr. Lance Savoie Family Dental, we can help you fix almost any dental problem that you run into, but we also greatly encourage our patients to take extra precautions to help prevent damage. If you are in the Abbeville, Louisiana area and you think you or your child would greatly benefit from an athletic mouthguard, give us a call! Our team of professionals will be happy to help.