You might have questions about Dental Implants, here at Dr. Lance Savoie Family Dental we have answers. We're confident that you'll be informed, comfortable with the process, and ready to proceed with any options you feel are right for you. Just come in for a consultation. 
Why Get Dental Implants?
Depending on your condition, you may or may not need them. At Dr. Lance Savoie Family Dental, we can perform a thorough, comprehensive evaluation. We'll address any of your concerns and provide helpful recommendations. There are many benefits to restoring your smile with implants: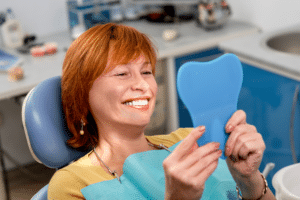 Improve Your Appearance
You may want to change something about your smile. You may have crooked or discolored teeth. You may have other concerns about your smile and appearance that you'd like to change. Dental implants can help by replacing aesthetically displeasing teeth. 
Correct Damaged Teeth, Tooth Decay, and Non-Functional Teeth
Do you experience difficulty eating your favorite foods? If you have a loose tooth or tooth decay at an advanced stage, extraction may be the best option. Implants can help by replacing the extracted tooth. 
Replace Missing teeth
Do you have missing teeth? Maybe you had an injury, or an adult tooth didn't grow in the right spot for a variety of reasons. You shouldn't wait for treatment. Over time, missing teeth can cause bone loss, affect your other teeth, and affect your overall health. Dental implants can help restore your smile and your confidence. 
Dental Implants in Abbeville Provide Great Solutions
Dental implants can replace a missing tooth with a veneer. The replacement implant will be fully functional like your natural teeth. Implants are strong, long-lasting, and will promote overall tooth and gum health. The implanted veneer will match your teeth, enamel, and smile beautifully. We'll ensure your implants have the same color, shape, size, and functionality as your natural teeth. Once treatment is complete, patients often report that their smile feels like natural teeth.
The Best Age for Dental Implants
Dental implants may be a great option for just about anyone. No age is too old for dental implants. Come see us in Abbeville and we'll help you determine your best options.
Implants Can Give You a New Smile
Dental implants can give you a functional bite, a beautiful smile, and healthy tooth alignment. It is important to have your surgery performed by a specialist. The team at Dr. Lance Savoie Family Dental offers the experience and highly-trained professionals to provide you the best possible service. We'll encourage your feedback at every step. We want you to be comfortable during the process and happy with the result. 
No matter your condition or concern, come see us at Dr. Lance Savoie Family Dental in Abbeville. We'll help you understand the treatment and options. You may be surprised to learn of what is possible, and you may not be able to wait to get started.