Periodontal Services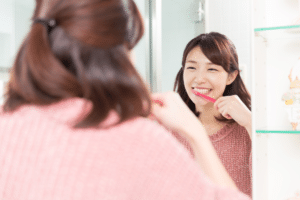 Many may be unaware of what periodontal disease is and why it is so important to get it diagnosed and treated right away. At Dr. Lance Savoie Family Dental we take periodontal disease very seriously and want our patients to know about and watch out for signs and symptoms to catch it early on. Residents of Abbeville, Louisiana, we encourage you to continue reading to learn more about this disease and how we can help treat it. 
Periodontitis
Periodontal disease is also known as periodontitis or gingivitis, affects almost every patient in one way or another. The cause of periodontal disease is the accumulation of plaque on and under the gumline. There are different levels or stages of this disease that determine the symptoms you may experience and what treatment would be best.
Gingivitis is the earliest stage of this disease where the plaque build-up causes inflammation and bleeding in the gums. Although this is the early stage, if plaque isn't removed, it can continue to build up and turn into tartar. 
Once made into tartar, the plaque starts to infect surrounding tissues and can cause serious dental and health issues. The later stages of periodontal disease can result in: 
Swollen and bleeding gums 

Receding gumlines 

Tooth loss 

Bone deterioration 

Heart attacks 

Stroke 

Diabetes 
Treatment Services 
Earlier stages of periodontal disease can be treated and corrected with a professional dental cleaning to remove all plaque build-up from teeth and right under the gums. If not taken care of right away, more severe therapy will be needed to correct the disease and return your mouth to optimal oral health. Service options offered: 
Scaling –

A dental scaler is a sharp, hooked, dental instrument that is used to remove hardened tartar off of the enamel surface. Unfortunately, the professional cleaning can't remove all existing tartar, so a sharper instrument is needed. 

Root Planing –

Tartar can spread down into the root of the tooth which can lead to gum and tooth loss. In efforts to remove all build-up, one of our dental professionals will clean off the roots of your teeth to promote healthy gum attachment. 

Gum Grafting –

When gum recession occurs, roots of teeth are left exposed and teeth become loosened due to no strong gum attachment. In the gum grafting procedure, the healthy gum tissue is removed from an uninfected area and is placed to replace the diseased tissue. 
Here to Keep you Healthy 
Not only does periodontal disease contain major risks to your oral health but your overall bodily health as well. At Dr. Lance Savoie Family Dental we are here to help you maintain your health and your smile. If you are in the Abbeville, Lousiana area and have been noticing some signs of periodontal disease, please make an appointment to see Dr. Savoie. Please contact us with any questions or concerns that you may have.