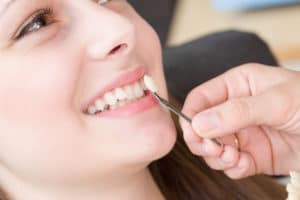 Are your teeth cracked, stained, or damaged? If so, we've got good news for you! With our porcelain veneers in Abbeville, your smile can be improved in no time at all!
What are Veneers?
If you've got some teeth that are in need of attention, you've come to the right place. At Dr. Lance Savoie Family Dental we care deeply about your comfort, dental care, and quality of life. If you've got stained, chipped, cracked, or otherwise damaged teeth, it could be causing you pain as well as feelings of insecurity. No one should have to waste their precious time and energy worrying about the function and appearance of their teeth. That's why we're here to help! There are so many ways to repair a smile but the one we'll focus on today is porcelain veneers.
The Materials
Veneers can be made from several different types of materials such as composite resin and dental porcelain. However, porcelain is often the most popular because they have the appearance of natural teeth and the material is very strong and durable. Dental porcelain is sometimes referred to as dental ceramic and is commonly used to create not only veneers but bridges and crowns too. These kinds of dental repair materials are biocompatible and very durable. You can rest easy knowing that your porcelain veneers will be strong and long-lasting, helping to serve you well for years to come.
The Process
First, the dentist will clean the affected area and a mold or digital scan will be taken of your tooth to ensure that a perfectly designed veneer can be placed directly on top of your natural tooth without any problems. Then the veneer will be created and secured to your natural teeth using a special kind of dental cement. The procedure is not a long one and will be done before you know it!
The Benefits
Veneers can help you look and feel your best in almost no time at all. And if cared for properly, your veneers could last up to 15 years or more. Paying close attention to your oral health by brushing and flossing regularly will help your veneers to stay in the best shape for the longest amount of time.
If you'd like to learn more about porcelain veneers, contact our office in Abbeville, LA today! We'd love to help answer your questions.