Professional Teeth Whitening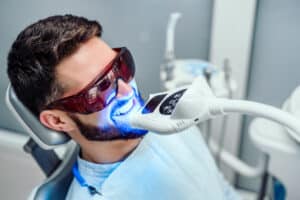 As we age and due to what we consume, our teeth can start to become discolored and stained. Having a bright smile can help increase the confidence we have in our smiles and our overall appearance. Dr. Lance Savoie, at Lance Savoie Family Dental, offers professional teeth whitening in Abbeville, Louisiana to all patients. To have a bright and white smile is not a new desire, but with new dental technology and treatments, the way to whiten your smile is safer and shows results like never before. 
It is common for patients to look to over-the-counter products to provide them the whiteness they desire, but with professional whitening in our office, you know the products being used on your teeth are safe and effective. It is guaranteed that our professional teeth whitening in Abbeville can brighten your smile multiple shades. 
In-Office Treatment
Receiving your dream smile is only one appointment away from becoming a reality. To make things easier and more convenient for our patients, we perform all of the whitening treatments right here in our dental chairs. 
To whiten your smile, we use two simple things, a hydrogen peroxide bleaching agent and a UV light that activates the agent. Upon arriving at your appointment, you will be sat down in one of our comfy chairs then a protective gel barrier will be placed onto your gums. After your tissues are protected, the bleaching agent and UV light will be placed. During 15 minute intervals, the materials will all work together in whitening your smile. 
Many people believe that using store-bought products would be quicker, less expensive, and more beneficial, but that couldn't be farther from the truth. With only one in-office treatment you will obtain a smile shades brighter than what any store-bought products could bring you even after multiple purchases. Other benefits of in-office, professional teeth whitening includes: 
Our bleaching agent will help remove stains and correct discoloration that has been present for years. 

Guaranteed that the products that are used are safe and effective for all patients. 

With professional whitening, the new shade of your teeth can last a long time if taken care of properly with oral hygiene practices. 

It is best to not take any chances when it comes to the health of your teeth, with store-bought products it is unknown what immediate or long-term effects it could have on your smile. 
Treat Yourself
At Dr. Lance Savoie Family Dental, we want each one of our patients to love and take pride in their smiles. If you have been hesitant to enhance your smile, we encourage you to take the small step in scheduling your professional teeth whitening in Abbeville. If there are still questions or concerns that you would like answered before making your appointment, please contact us or feel free to stop by our office. We are excited to see you and help you achieve your dream smile.