What is Children's Dentistry and Why is it Important?
Children's dentistry is very beneficial. It gives parents the peace of mind knowing that their child's dental health is being looked after from a young age. It also allows family dentists to look for early signs of any issues that may develop in the future. At Dr. Lance Savoie Family Dental, we offer children's dentistry in Abbeville, Louisiana and the surrounding area. We have a strong focus on family dentistry, and work with children and adults of all ages. From the moment your child's first tooth erupts, we can monitor their dental health, and get to know them as they grow up. There are several benefits of children's dentistry.
Allows dentists to anticipate issues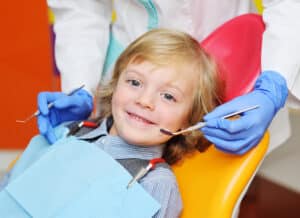 Children's dentistry allows dentists to detect any potential issues early on. These are usually common problems such as tooth or jaw misalignment as their permanent teeth come through, for example. Your family dentist can then recommend a suitable treatment such as braces or clear aligners. You can also speak to your family dentist about any bad habits your child has such as thumb sucking and they will provide help and advice to prevent this having a negative impact on their dental health.
Teaches the importance of oral hygiene
Taking your child to see a family dentist is the best way to teach them about the importance of oral hygiene. With experience in children's dentistry, they'll have special methods and techniques to help teach your child a proper oral care routine. Your children will have a better understanding of dental health and how to maintain it at home. Hopefully, it'll be easier for you to get them to brush and floss every day.
Helps control dental anxiety
Dental anxiety is a common problem in both children and adults alike. Seeing a family dentist from a young age can help children get used to it, and feel less afraid. It's especially useful to work with a dentist trained in children's dentistry, as they know more about making children feel comfortable. At Dr. Lance Savoie Family Dental, we strive to provide a warm and friendly environment for children and families. It's our job to make visiting the dentist a more pleasant experience.
Provides a more personalized service
The advantage of family dentistry is that your dentist will work with all members of your family throughout their life. This means getting to know your children from a young age and developing a rapport with them as they grow up. Your dentist will also have knowledge of your family's dental history, meaning they can provide a more personalized service. This will help give you peace of mind whether yourself, your child, or your elderly parents need dental treatment. 
At Dr. Lance Savoie Family Dental, we provide family and children's dentistry in Abbeville, Louisiana. We offer quality care and comprehensive treatment, for all ages. Our friendly team is always available to answer any questions about the services we offer. If you would like to learn more about children's dentistry, contact us today.